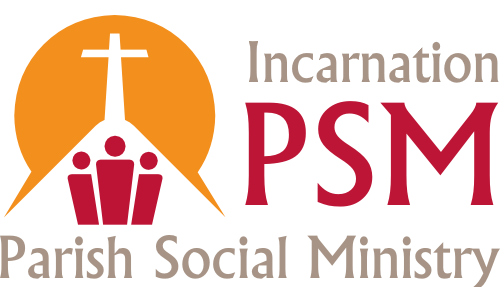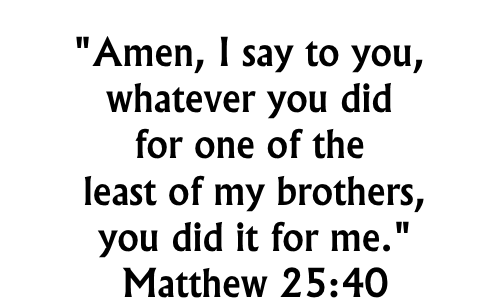 Incarnation Parish Social Ministry serves parishioners and our community through direct service, works of mercy, and convening groups.
Incarnation PSM coordinates all ministries through its office.  If you have any requests or wish to volunteer, call 850-7374 between 10AM-2PM, M-F.  However, some ministries do have "point people" you can contact as well. See the sidebar for numbers.
Community Outreach
In our town, Incarnation is the food church. We're the only M-F pantry. Other Collierville churches rely on us. Even so, we still have enough to feed families in Fayette County!
Our Community Outreach ministry provides:
Food Pantry, open M-F 10AM-2PM
Bill payment for families in crisis
Emergency shelter through ROOM IN THE INN 
Food, clothing, & school supplies to Fayette County through PROJECT OUTREACH
Volunteers for Catholic Charities projects, 1st Wed. @ 9:15AM
Homebound Ministry
We have more than 30 parishioners at home and in assisted-living facilities.
Homebound Ministry volunteers serve in a variety of ways:
Bring communion 1-2 times a week.
Drop in for friendly visits.
Send cards and notes.
Make prayer shawls and lap blankets.
Care and Comfort Ministry
We all have times of upheaval. Our Care and Comfort Ministry provides parishioners:
Meals for families with loved ones in the hospital, recovering at home, or in crisis.
Transportation to grocery and/or doctors' appointments.
Nurses to ease a hospital-to-home transition, lend equipment, and answer questions.
Prayers and knitted/crocheted shawls and lap blankets.
Funeral organization help, food for the reception, and a handmade prayer quilt.
Hospitality
Our Hospitality Ministry provides:
Greeters to give smiles and warm welcomes to everyone joining us for mass.
Welcome Table volunteers to answer questions before and after mass.
Coffee and doughnuts after Sunday morning masses.
Welcome Bread loaves for Fr. Ernie to present to new parishioners in mass.
Host Families to help new parishioners get acclimated in the parish and Collierville.
CONTACT
Social Ministry Director
Jenny Fehrenbacher, 850-7374
EMAIL PSM
Angel Knitters:
Audrey Bradham 853-9825
Angel Quilters:
Susan Brack 853-2125
Breast Cancer Support:
Loma Hyder 854-9790
Career Support:
Bob Reilly 378-1818
Funeral Support:
Mary Beth Trouy 853-1819
Betty Llewellen 854-2739
God's Special Needs:
Charlotte Slater 457-7770
Health Ministry:
Missy Feyerherm 485-5122
Ministry to the Sick:
Lee Handwerker 854-8502
Project Outreach:
Delana Lynch 861-6358