Traveling Virgin of Fatima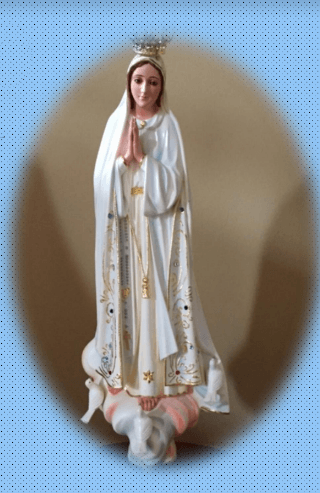 Our Traveling Virgin Mary of Fatima would love to visit your home. The statue offers the opportunity for family prayer and a deepened devotion to Mary as we ask God to bring fallen away Catholics back to the sacraments.
A basket will accompany the statue and will include rosaries, a binder with instructions on how to pray the Rosary, a DVD with the story of Our Lady of Fatima along with coloring books and stories for children.
To host the statue for a week, contact Lois Crosby.
CONTACT
Lois Crosby, 221-8679  |  lois.crosby@sbcglobal.net
Wednesday Prayer Group
This group meets every Wednesday morning from 9-10am in the St. Therese of Liseaux Chapel to say the rosary, consecrate ourselves to the Immaculate Heart of Mary, and pray. We gather to give thanks for our many blessings and pray for the intentions of our parish, country, family and friends. All are welcome to join us.
CONTACT
Mary Lee Morton, 853-6908
Rosary for Healing
The Rosary for Healing group gathers @7PM on the 2nd Tuesday of each month in the St. Therese of Liseaux Chapel. Before the Rosary begins, we make spontaneous prayers for our intentions. Then each person presents to Jesus through Our Lady's intercession the names of those for whom we pray the decades. A different person leads the Rosary each month.
The Rosary is open to any and all; prayer requests for healing are welcome. Join us or submit your requests to the Parish Office at 853-7468.
CONTACT
Butch & Kathy Ryan,  854-6609
Perpetual Adoration
24-hours, 7 days a week, Incarnation parishioners adore the Blessed Sacrament in our chapel. Our Lord invites each of us to spend some quiet time with Him.
Parents: Please see the church calendar HERE for "Adoration Childcare" times.
CONTACT
John Leoni, 901-861-7189
IMPORTANT DATES
Coming Soon!