Youth Groups
Youth Ministry at Catholic Church of the Incarnation seeks to: engage young people as members of the Church, help them to encounter Jesus Christ, and empower them to spread the Good News in the world.
We want YOU to join us!
Incarnation Teens
High School Youth Ministry
Join us Wednesdays 6:30-8:30PM. All teens (Grades 9-12) are invited!
Contact
Rebecca Talarico, Director of Youth Ministry, (901) 850-2690, Email Rebecca
Registration Forms
Parish Athletics
Incarnation Cougars
Incarnation offers many athletic opportunitiesto children of our parish and school. We offer competitive and recreational sports in areas such as volleyball, golf, cross country, basketball, and baseball.
Incarnation is one of the largest member churches in the East Shelby Church Recreation Association (ESCRA). In addition to competing in ESCRA, Incarnation is also a proud member of the Parochial Athletics Association (PAA) sponsored by the Catholic Diocese of Memphis.
CONTACT
Ted Bacon;901-246-7205;Email Ted
Girl Scouts

Incarnation Church supports both Daisy and Brownie Troops.  The Troops meet on the first and third Thursday evenings of each month from 6-7pm at ICS (Sept-May).Girl Scout Daisies, grades K-1; Girl Scout Brownie, grades 2-3
We welcome girls in grades Kindergarten through 3rd to join us for fun, friendship, service, and outdoor adventure through Girl Scouting.  Incarnation Girl Scouts is a faith-based program which seeks to bring together the girls of our parish and school by combining the principles of Girl Scouting and our Catholic faith.
CONTACT
Maggie Myers, 861-2285 Email Maggie
Cathy Martin, 497-0108 or Email Cathy
Middle School Youth
Join us every Thursday night 7-8PM in the Fellowship Hall. All kids in 6th, 7th, and 8th grades are invited! We play games, eat food, do service projects, have dances, go bowling, and we talk about our faith!
Contact
Rebecca Talarico, Director of Youth Ministry, (901) 850-2690, Email Rebecca
Registration Forms
Columbian Squires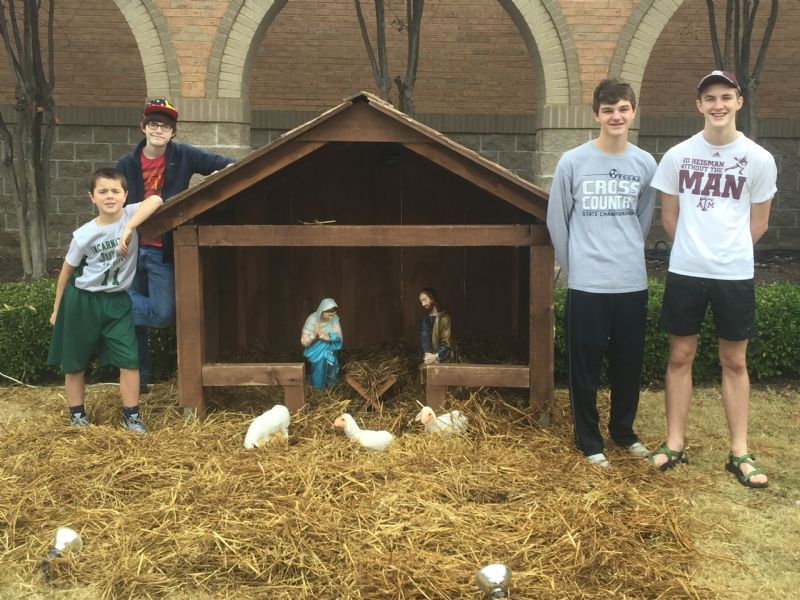 The Squires is an international fraternity of approximately 25,000 Catholic young men, ages 10 to 18, in over 1,500 circles worldwide. Circles exist, or have existed, throughout the United States, Canada, Mexico, the Philippines, Puerto Rico, Guatemala, Panama, Cuba, the Bahamas, the Virgin Islands, Guam, and on U.S. military bases abroad. The Squires involves young men in programs to benefit the Church, the community, as well as in recreational and social activities.
Contact
Michael Pratt, michael.l.pratt@gmail.com
Boy Scouts
Cub Scouts
All boys in grades 1-5 are welcome to join.  Dens and pack meet September through May (usually on Tuesday nights).  We also have special events, such as camping trips, Pinewood Derby, picnics, parties, and service projects.  All Cub Scout activities promote one or more of 3 primary goals:  character development, citizenship, and personal fitness.
CONTACT
John Dockstader, 512-592-1123
Cathy Martin, 497-0108 or Email Cathy
Boy Scouts
All boys ages 11-18 are welcome to join this group for a variety of scouting experiences. We meet Monday nights from 7-8:30pm. This is a year-round program built by volunteers and carried out by the scouts. Come see what we're about! For additional information, please visit www.troop331bsa.org.
CONTACT
Chuck and Cathy Martin, 497-0108 or Email Cathy
IMPORTANT DATES
January: Basketball team commitments.
Jan-Mar GS Cookie Sales: Look for the February booth after mass.
February: Baseball signups.
June: BS 4th of July pork butt orders.
August: Golf, Volleyball, Cross Country, and Soccer signups
Sept-Oct: CS/BS Popcorn Sale
October: Basketball signups.
December: Christmas Concert Fundraiser